Executives and organization
The IPTV Forum Japan (general corporate judicial person) establishes the following organization to undertake the activities mentioned above:
General Assembly of Members: This consists of all members.
Board of Directors: This consists of Directors Technical Committee: This undertakes specific discussions on the formulation, maintenance, update, publication, etc. of technical specifications.
Steering Commitee: This undertakes discussions on the management of the forum.
Organization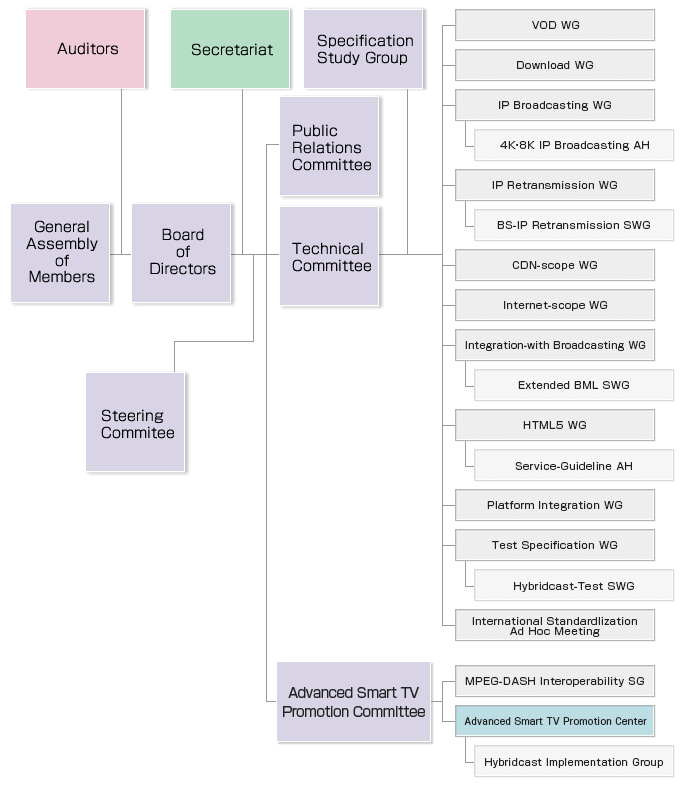 Executives
| | Name | Group name |
| --- | --- | --- |
| Chief Director | Jun Murai | Keio University |
| Director | Yoshiyuki Seki | Fuji Television Network, Inc. |
| Director | Seijiro Yasuki | Toshiba Corporation |
| Director | Katsumi Nagata | NTT Plala Inc. |
| Director | Katsuhiko Kawazoe | Nippon Telegraph and Telephone Corporation |
| Director | Shozo Fukui | |
| Director | Hiroshi Oba | TV Asahi Corporation |
| Director | Makoto Ikegai | Fuji Television Network, Inc. |
| Director | Michihiro Ishizu | WOWOW Inc. |
| Director | Yasuhiro Shibata | Nippon Television Network Corporation |
| Director | Yasuhisa Yamada | KDDI Corporation |
| Director | Reijin Ishii | NHK (Japan Broadcasting Corporation) |
| Director | Takashi Otsu | Panasonic Corporation |
| Director | Eisuke Miyazaki | Tokyo Broadcasting System, Inc. |
| Director | Yoshinori Matsumoto | Sony Corporation |
| Director | Akihiro Munatoshi | Sharp Corporation |
| Director | Tetsuo Umetani | TV TOKYO Corporation |
| Auditor | Mieko Mio | cubem law office |