About Technical Specifications
The basic principle adopted in establishing this forum is to promote the standardization of technical specifications related to IPTV receivers and services and also to promote the wide use and enhancement of these specifications with a view to making IPTV services that conform to common standards a reality.
Following the release of the overview and four IPTV standards (CDN scope service approach specifications, VOD specifications, IP broadcasting specifications and Operational Specifications for IP retransmission of digital terrestrial television broadcasting) released in September 2008, two new specifications have been released: Internet scope service approach specifications and Integration with broadcasting specifications. In additon, Download specifications have been released in July 2009.
Existing specifications have been revised where necessary, and consequently the version numbers of these specifications have been updated.
Organization of documents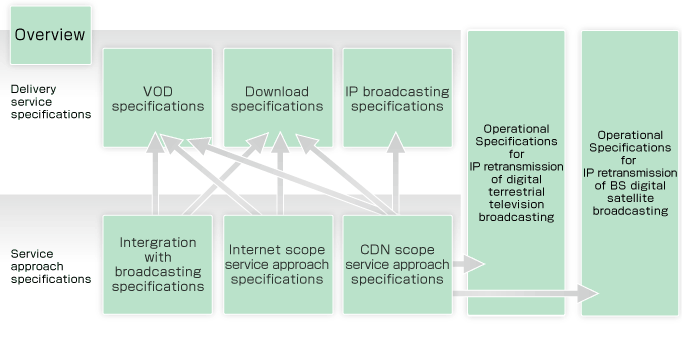 If you wish to download technical specifications,click the "Downloads" button.
→Information about BML of ARIB TR-B14/B15 is available here.(in japanese)